ADAPT of Texas has just won a Best of Austin 2012 Award from the Austin Chronicle.  Named Best Champions for Equal Access in their Crictic's Picks the Chronicle says:
ADAPT has been championing the rights of disabled folks for decades.  Over the last few years, our local branch of these awesome activists launched lawsuits across Texas to expand access to public places for folks with disabilities. Lots of local faves – including bars on Sixth Street, legendary restaurants – and the Domain shopping center, are on that list. Let's get rolling, folks!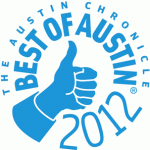 Hey, isn't it time you got with a winner!?!  Come join us and advocate for life, liberty and the pursuit of happiness.  Access is a Civil Right!  We Will Ride!  Free Our People!  Our Homes, Not Nursing Homes!