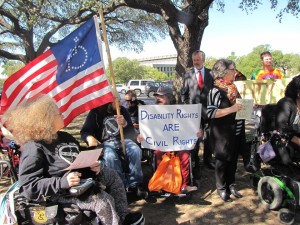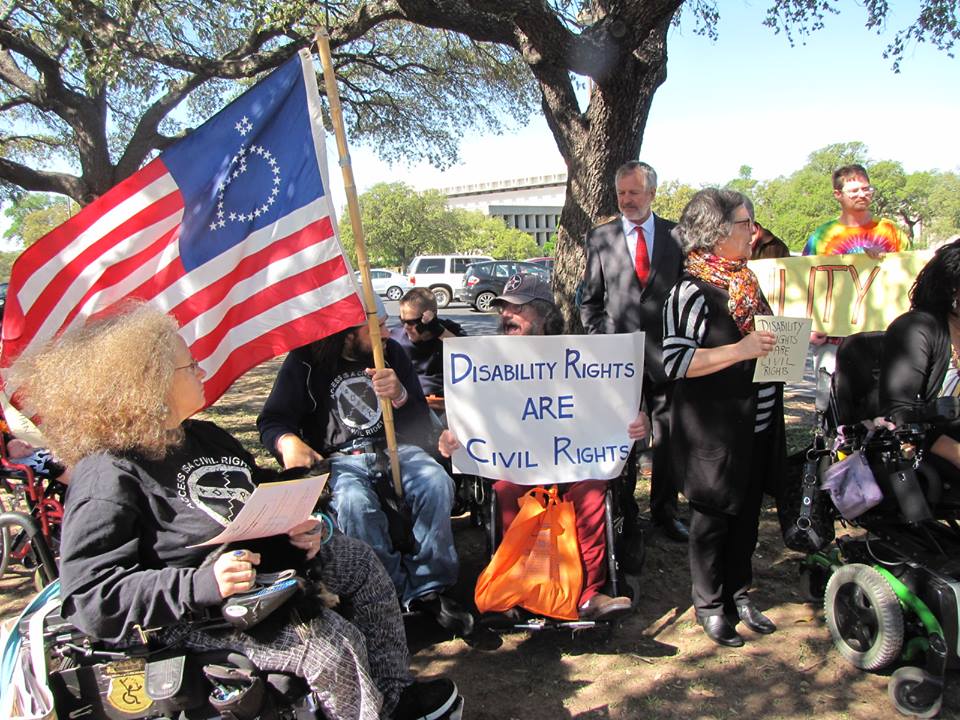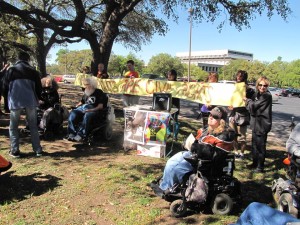 (photos by Kaye Beneke kaye@beneketx.com)
DISABILITY RIGHTS ARE CIVIL RIGHTS!
(April 8, 2014 – Austin, TX) Disability rights advocates gathered to hold a press conference near the LBJ Presidential Library where a national Civil Rights Summit is taking place.  The Summit which the library is holding to commemorate the 50th Anniversary of the enactment of the Civil Rights Act of 1964 and acknowledge it's legacy.  Presidents Jimmy Carter, William "Bill" Clinton, George W. Bush and Barack Obama will be addressing the conference, among many others.
To commemorate the impact of the Civil Rights Act, workshops cover a variety of other topics, including: Gay Marriage, Immigration Policy, Music and Social Consciousness, LBJ and MLK, Fulfilling a Promise, Realizing a Dream, Leveling the Sports Playing Field, Heroes of the Civil Rights Movement, Social Justice in the 21st Century, Women: How High is the Glass Ceiling?, and Education: The Ultimate Civil Right.  Despite having been contacted over 2 months ago to see if disability was going to be included, Summit organizers were not planning to include this important legacy.  However, at the 11th hour, thanks to the speedy and united response from the disability rights community from across the country, Summit Organizers finally found a place to include disability on one of the panels at the Summit.
So today members of the disability rights community and our allies gathered to celebrate this victory, the 50th Anniversary of the Civil Rights Act and the importance of the Americans with Disabilities Act and disability rights movements. Speakers included: Bob Kafka – ADAPT, Regina Blye – TX SILC, Cema Mostroleo – SafePlace, Stephanie Thomas ADAPT, Dennis Borel -CTD, and Jim Harrington – TX Civil Rights Project.  We recommit to continuing our civil rights struggle.  In addition, we celebrate the ADA, great liberation legislation for 52 million Americans, which will see its 25th Anniversary next year.
Thank you to ALL who attended and all who wrote, called, emailed or otherwise contacted the Summit organizers.  AND thank you to Lex Frieden, one of the unsung heros of the ADA, who will ably represent us at the Summit on Thursday.
Nothing About Us Without Us!