ADAPT of Texas is pleased to invite you to a READING and CONVERSATION with HAROLYN ROUSSO
Friday April 11, 2014
3:30 to 5 pm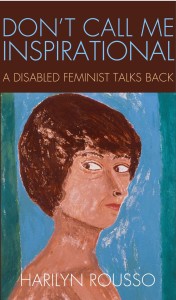 At the ADAPT Office 1640 East 2nd ST, Austin, TX 78702
Writer, painter, educator, social worker, psychotherapist and activist woman with CP who has worked in the disability rights field, with a particular emphasis on issues of women and girls with disabilities, for more than 25 years.
From early childhood, Rousso struggled to find her place in the world… When she writes of the psychotherapy institute where she was training asking her to leave… she, and her reader, recognize the prejudice she has faced. …its painful honesty is affecting. — Publisher's Weekly, December 24, 2012
"The book follows her journey from 'passing' – pretending that she didn't have cerebral palsy – to embracing her disability. In the late '70s, she began exploring her disability identity, and she writes with honesty and power."  –Jewish Woman, Winter 2012
"I've known Harilyn Rousso as a powerful activist and gifted artist, but with this revelatory book, she becomes something even more rare: a storyteller who conveys her uniqueness, and so helps us to discover our own. This book is irresistible to read, honest, insightful and universal."
– Gloria Steinem
Join us for an informal discussion and sharing of ideas and experiences.
The ADAPT office is located on East 2nd ST at the corner of Chalmers, between Chicon and Comal Streets.
Buses 17 and 330 go right by the office