We're a grassroots group.  We can use your help. 
Order your posters today
How to order posters:
1. Fill Out Order form.
2. Write a check/money order for the total amount — payable to ADAPT.
3.  Send form and check to :
ADAPT Posters
1640A E. 2nd St #100
Austin, TX 78702
Rights worth fighting for poster  How Many?  ______
Power Concedes nothing with a demand poster  How Many? _____
Total number of posters  _____
X $10 per poster = ___________
subtract 10% for 11 or more posters ______
Total $ enclosed with order ________
Need more information?  Call or send email to Bob Kafka, ADAPT  512-442-0252
There are multiple other ways that you can support us:
The 2012 Austin Fun*Run will be held SATURDAY April 21st here in Austin from 11 am to 1:00 at the Yellow Jacket Stadium 1156 Hargrave ST  Music, refreshments, and a great way to support your favorite group!  You can run for any group and help them raise funds — just contact Bobfor details — it's not too late, and you will be supporting ADAPT too!  Then on Sunday April 22nd the folks who go to Washington DC will be running in National Fun*Run in the shadow of the Nation's Capitol, in Upper Senate Park; a great way to kick off a week of activism for disability rights and defending our freedom.
VOLUNTEER:  Get in touch if you want to volunteer and get involved in the fight for disability rights. We have several projects we can use your help with!
DONATION:  We also can always use financial support too.  Donations are tax deductible and help keep our doors open. Please click on the DONATE button above.
SUPERMARKET:  Do you shop at Randalls Supermarkets?  Give them our Good Neighbor number 6012  and Randalls will donate a percent of your purchases  to ADAPT!
BINGO:  Do you like to play Bingo?  Big Star Bingo is one of the best games in Austin and it supports ADAPT as well as other local charities.
CALENDAR:  Limited numbers of  2012 ADAPT CALENDARS AVAILABLE — A BARGAIN AT $5 EACH (plus shipping and handling)…  sign up for one now and GET ONE WHILE THEY LAST– Contact us today.  12 Months of disability rights B&W photographs and disability history!
BUMPER STICKERS: "To boldly go where everyone else has gone before" and "ADA -Rights Worth Fighting For" bumper stickers are just two of the disability rights bumper stickers available for $1 each
POSTERS:  "The ADAPT Community Posters" are also available for $5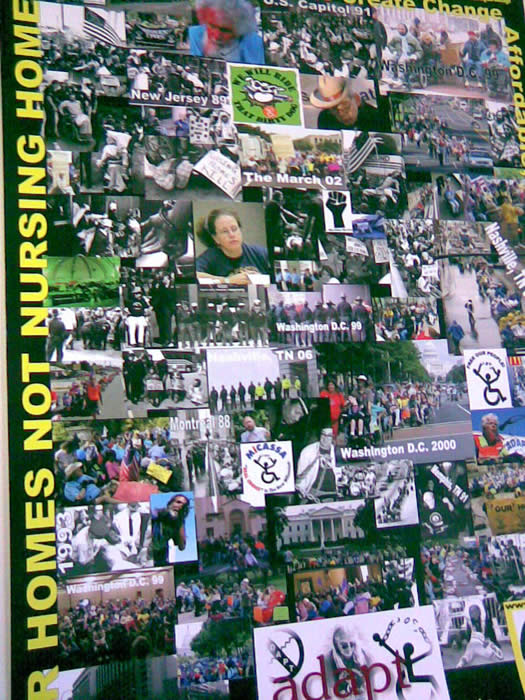 THANK YOU to our supporters!